Stephen Paiano – Owner & Head Coach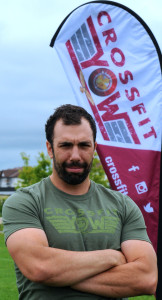 After moving back to Ottawa in 2013, Stephen first stepped into a CrossFit when his family began to expand and cycling at a high amateur level was no longer an option because of the time it took to train and compete.  He fell in love with CrossFit almost immediately, after being exposed to a local CrossFit box.
Stephen has a strong background in endurance sports having completed three Ironman triathlons and three 70.3 Ironman triathlons as well as accumulating several cycling victories in Ontario, Quebec, and Alberta.  
Before opening CrossFit YOW, Stephen was the Executive Director for Triathlon Alberta, Track and Road Coordinator for Cycling Canada, and Program Manager for Football Canada.  He also worked with Pro Goaltending as their Director of Strength and Conditioning from 2003-2008 and trained athletes such as Daniel Altshuller (Carolina Hurricanes), Danny Taylor (LA Kings/Calgary Flames), and Mark Vissentin (Phoenix Coyotes/World Junior Team Canada). 
Currently, Stephen is also a full-time Firefighter with the Ottawa Fire Service.
"For me, CrossFit is about using my time efficiently and meeting and exceeding personal goals, within a supportive community.  People today, regardless of age and ability, are busier, and for those who are serious about their all-around fitness, nothing beats CrossFit.  In one hour, there is no better workout available.  CrossFit will improve every facet of your fitness, including strength, power, speed, endurance, stamina, balance, agility, etc.  It's that simple. I'm still able to run and cycle at a high level but now I am stronger or more versatile, physically. CrossFit is a team sport and it's the team that keeps me motivated."
Qualifications:  CrossFit Level 2 Certificate, CrossFit Anatomy Certificate, CrossFit Level 1 Certificate, CrossFit Mobility Trainer, CrossFit Weightlifting Trainer, NCCP Triathlon Coaching Certificate, CanFitPro Personal Training Certification (2008), CPR Level C, First Aid, BA in Political Science and History (Mt. Allison University) and Level 4 Hockey Canada Official
Emma Freeman-Harkin – Associate Coach, CrossFit Kids Head Coach & Social Media Coordinator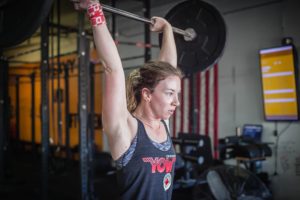 Emma found CrossFit after coming home from university, looking for a new way to stay active and get stronger. Thanks to her sister-in-law, she discovered CrossFit and fell in love with the community at YOW in April 2015. Emma credits her shoulder rehabilitation to CrossFit as she was able to avoid the need for surgery. Less than a year into training, Emma decided to trek to Crossfit Mayhem in Tennessee, in January 2016, to attend the Crossfit Level 1 Certification course, and then to Baltimore to attend the Crossfit Kids Trainer Course.
 With a love for water and swimming, Emma became a lifeguard and swim instructor at a young age. Since 2009 she has been teaching everything from overcoming fears of water and full strokes, to mentoring the next lifeguards and swim instructors. Therefore, the transition from athlete to coaching adults and running the Kids program at YOW has been seamless.
Shortly after finding coaching, she decided to pursue a career in Fitness and Health, and is currently enrolled in the program at Algonquin College.
"Since starting Crossfit, I truly recognize that we are so lucky and the body is an amazing thing. Given the right foundation and maintenance, we are capable of so much."
Qualifications:  CrossFit Level 1 Certificate, CrossFit Level 2 Certificate, Crossfit Kids, Lifesaving Society Swim Instructor Trainer and Lifesaving Instructor Trainer, National Lifeguard Service Instructor and Examiner, First Aid Instructor and Examiner, Standard First Aid with CPR-C and AED, CPR-HCP, Airway Management
Mike Friesen – Coach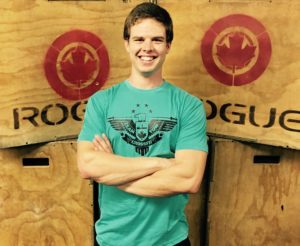 Mike Friesen started his fitness journey in 2012. He was heavily involved in track and field. His coach, at the time, strongly recommended he begin a strength program to compliment his sprinting regime. He did not take to it immediately and strength training definitely pushed him outside his comfort zone. However, Mike quickly began to appreciate the payoff this additional programming added to his performance, as his track results started to drastically improve. He then continued into pure strength programs and, over time, bodybuilding became a real passion. Mike then competed in bodybuilding and power lifting competitions to fuel his competitive spirit.
He knew that he wanted to work in the fitness industry and to use his focus to push the boundaries of fitness and the potential of the human body. So when it came time to go to college, Mike enrolled in the Fitness and Health Promotions Diploma at Algonquin College. It was during this time that Mike first discovered Crossfit. His first workout was with a bunch of friends. Mike thought of himself as an above average athlete, but the workout absolutely crushed him and left him feeling very unfit. He decided, after that initial workout, to make Crossfit his sport of choice. He joined the nearest gym and started training with a desire to compete. With this newly acquired passion, Mike soon came to realize that he not only wanted to compete, but he wanted use the skills he pursued in college to become a Crossfit coach and work with athletes who were committed to this elite fitness regime. He went on to complete his Level 1 Crossfit Certification in 2014. He started coaching out of his garage gym in Almonte and eventually completed an 8-month internship at Crossfit NCR before joining our coaching team at Crossfit YOW.
Certifications: Crossfit L1, Fitness & Health Promotion Diploma (Algonquin College), Standard First Aid and CPR Level C
Mike Giroux – Coach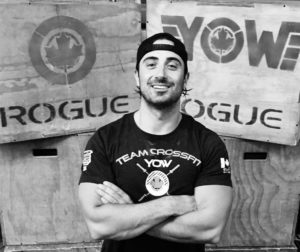 Mike grew up playing competitive hockey and lacrosse from a young age. He found that same competitive edge when he discovered the sport of CrossFit In 2012. After falling in love with the training style, he got his level 1 coaching cert in 2014. Mike works as a full time professional firefighter here in Ottawa and passes on his passion and love for fitness in his role as a Peer Fitness Trainer for the Ottawa Fire Department. He started coaching at Crossfit YOW in 2017 after moving to Manotick, and brought with him a positive attitude and a wealth of knowledge to our community.
Certifications:  Crossfit L1