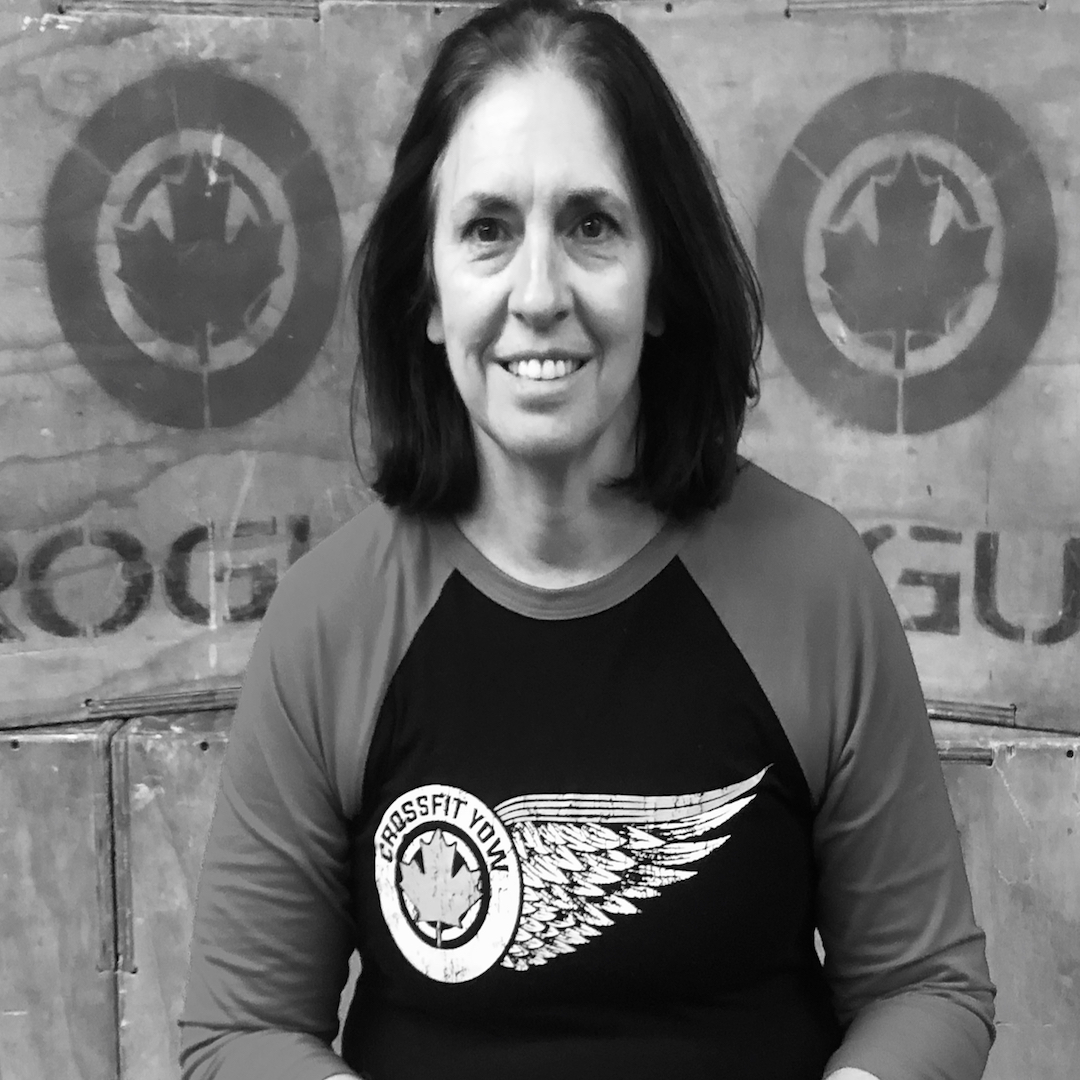 Susan McGurk-Paiano
Owner / Social Media / Gym Mom
Susan learned about CrossFit when her son brought the idea of opening a box to her and her husband, Lucio.  She knew nothing about the methodology or understood how a whiteboard or a community of members could push athletes to work beyond their preconceived limits. She did not even attend classes until 6 months into her investment and the first time she attended it was with trepidation.  She was not in any real shape, never moved weights, hated running and detested burpees. She could not jump onto anything higher than a 10 lb plate and her squat was more like a bow.  Years later, she is squatting below parallel, can run without stopping every 50 meters to catch her breath, can snatch, clean and jerk, and deadlift weights she previously thought were out of her reach.  Most importantly, she has more energy for her grandchildren and she now understands how a CrossFit community like YOW can support you to achieve goals you never thought possible.
Susan has a background in education and taught in the elementary panel in Ottawa before she retired almost two years ago.  She coached most school sports, including basketball,, volleyball, track and field, handball and soccer.  Susan always believed that physical fitness was important to a youngster's development as a student and as a member of their greater community.  Her own children were encouraged to be active and participate in team sports when they were growing up and she was a part of the coaching staff on several of those teams.  Somewhere along the way, she forgot about her own fitness and a busy life seemed to push that idea from being a priority.
"Since starting CrossFit, I am truly amazed at what I can do and how it has changed both my physical and mental health.  It is a stress reliever, to say the least, but more importantly I am in a gym with like-minded people who have decided to make fitness a priority in their lives.  Their energy is contagious and I know I could not have succeeded without their positive encouragement and support.  I am not ready to throw in the towel and be comfortable with my aches and pains.  I want to live my best life and I encourage other mature athletes, and other women especially, to recognize the benefits to their families by keeping active and taking time to focus on their own fitness goals. It pays off tenfold."
You'll see Susan around the gym on most days and at different times.  She loves interacting with members and is always available to listen to feedback, cheer you on and hear your story, struggles and achievements.