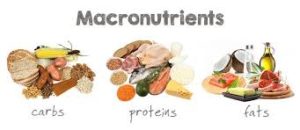 They affect many processes in our body, including:
ability to digest and absorb nutrients
hormone production
immune system health
cells' structure and health
body composition
metabolic function
OUR MAIN THREE ARE: PROTEIN, FAT, CARBOHYDRATES
CARBOHYDRATES: 1g of carbohydrate = 4 cals
textbook definition: a group of compounds including sugars, starch and cellulose
Layman's terms: our bodies' preferred source of energy that is person dependent
*there is no "correct" amount of carbs that is the same for everyone
FATS: 1 gram of fat = 9 cals
textbook definition: organic molecules made up of carbon and hydrogen elements
Layman's terms: necessary nutrient that is used in bodily functions
 6 MAJOR ROLES OF DIETARY FAT
provides us with energy
makes and balances hormones
forms our cell membranes
forms our brain and nervous system
helps transport fat-soluble vitamins
gives us fatty acids we can't make on our own (linoleic acid & linolenic acid)
4 types: SATURATED, MONOUNSATURATED & POLYUNSATURATED, TRANS
PROTEINS: 1 gram of protein = 4 cals
textbook definition: chains of hydrogen and carbon that contain nitrogen to create amino acids. linked chains create proteins.
Layman's terms: nutrient required to thrive and survive 
You can get protein from many different sources, but some sources will have a higher density that others.
The daily recommended amount is: 1.2-2.2g/kg of body mass
person weighing 150lbs – 82 to 150g/day
person weighing 200lbs – 108 to 200g/day